Source:
http://www.bium.ch/en/publication-open-access/research-visibility/
Research visibility & ORCID
Why improving your online visibility?
To
make your research studies and activities known. Researchers in the
biomedical field have to face the information overload problem
(Infobesity) with more than 1.2 millions new articles on Pubmed every
year (see PubMed Statistics)!
To foster new collaborations
To get higher citation rates of your publications
To make sure that all your research activities are considered during assessments
To increase your chances to be funded
To involve citizens and society
___________________________________________________________
Actions to increase your visibility
In today's digital and open access environments people are talking about the shift of academic maxims from "publish or perish" to "get visible or vanish" .
Reference:
Joanne Doyle & Michael Cuthill (2015) Does 'get visible or vanish'
herald the end of 'publish or perish'?, Higher Education Research &
Development, 34:3, 671-674,
DOI: 10.1080/07294360.2015.1025467
Researchers Profile
Services
UNIL
is an ORCID member and has purchased a premium subscription to make
sure that all academics and researchers working at UNIL & CHUV
receive maximum benefits from ORCID services.
For
example, In the future FBM will use ORCID record data to update your
bibliography in the Serval institutional repository and to update the
institutional reporting system. Funding organizations like the FNS and
H2020 will soon request ORCID identifiers during grant submission and
plan to use it to reduce the burden of a grant submission. Publishers
are collecting ORCID iDs during manuscript submission making your work
attributable to you and only you.
Over
time, this collaborative effort will reduce redundant entries of
bibliographical data into multiple systems. Your ORCID iD will belong to
you throughout your scholarly career as a persistent identifier to
distinguish you from other researchers and ensure consistent, reliable
attribution of your work.
UNIL strongly
encourages ORCID adoption and our unit is actively helping FBM/CHUV
researchers in creating their ORCID iDs. We will provide you with
guidance on how to import your research outputs and biographical records
to your ORCID profile and how to interconnect all information. We will
help you with a better understanding and use of ORCID. ORCID trainsings
are provided on a regular basis by our service (check the CHUV
calendar).
Tools
Ask us about ORCID and the way to interconnect it to your ResearcherID and Google Scholar profile.
___________________________________________________________
ORCID iDs ensure you get credit for ALL of your work
Video presenting What is ORCID?
Do you worry about getting credit for your research because your name is common or you have publications under multiple aliases?
Do you struggle to keep track of all of your research outputs?
Are you annoyed by having to enter the same information over and over in manuscript and grant submission systems?
To solve these problems, there's now
ORCID
, the Open Researcher and Contributor ID. ORCID is registry of
unique identifiers
for researchers and scholars that is open, non-proprietary,
transparent, mobile, and community-based. ORCID provides a persistent
digital identifier to
DISTINGUISH YOU
from all other researchers,
AUTOMATICALLY LINKING
your professional activities
.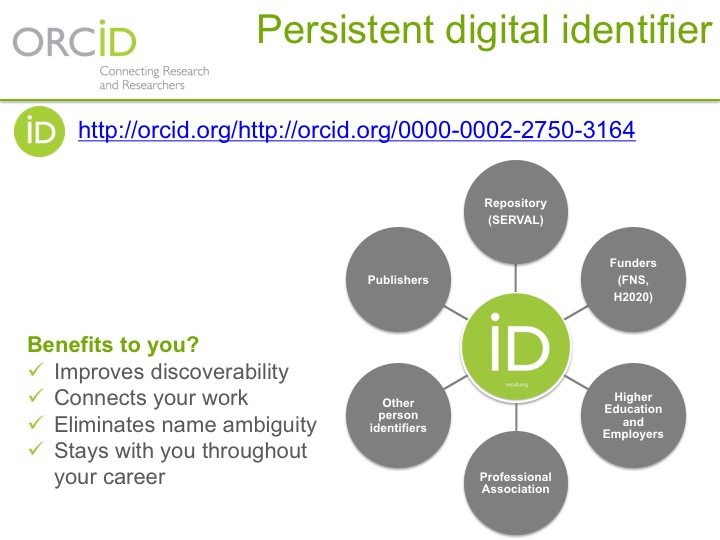 Distinguish yourself. If you share your name with other researchers—in your own or another field—an ORCID iD will help distinguish you from them.
Your lifelong digital name.
Even if you have an unusual name, it can still be difficult to
correctly identify and connect you with all your activities and
affiliations. Throughout the course of your career, you may change your
name, publish under different versions of it, or have it transliterated
into other alphabets. You may also change organizations or countries,
fields, or even disciplines. But you still want to be uniquely
identifiable and to stay connected with your body of work. Your
ORCID iD stays with you throughout your professional life, ensuring that
you and your research contributions stay connected.
You're in control.
ORCID is researcher-centric, built on principles of researcher control
and privacy. You register for an iD yourself and decide which
information to connect to it, including what to make public, what to
share with trusted parties, and what to keep private. You choose how
often—if at all—you get notifications. And you can change your
permissions, settings, or delete items at any time.
"Enter once, re-use often."
Our goal is to minimize—and ultimately eliminate—rekeying of data in
multiple systems, saving you time and reducing the risk of errors. We do
this by developing open tools and services that allow you to connect
your ORCID record with other systems you use (grant application,
manuscript submission, and research information management systems, for
example). Once connected, you can grant permission to those systems to
update your ORCID record.
Automatic updates.
Even better, in some cases you can opt for these updates to happen
automatically AND your trusted organizations can opt to be notified when
new items are added to your record, saving you reporting time. One
great example is Crossref's new auto-update functionality.
Crossref creates DOIs for publications and, as long as you use your
ORCID iD during manuscript submission and your publisher passes it along
in the metadata, Crossref can now automatically update your ORCID
record when your paper is published. You simply have to grant permission
once, and they will enable updates for any publication and any
publisher. Look out for an email from update@notify.orcid.org.
More than just publications. As well as easily connecting your publications to your ORCID record, you can also connect peer review activities, datasets, grants, and more.
Life scientists are especially keen to connect datasets and peer review
to their ORCID record, which is good news, since both are easy to do.
DataCite's Search & Link wizard already allows you to connect your
existing dataset DOIs to your record, and they are launching auto-update
functionality similar to Crossref. And last October, we launched new functionality to enable acknowledgement of peer review activities, which has been launched by several publishers and is in the works at some funding organizations.
Quick, easy, and free. Registering for an ORCID iD couldn't
be easier—all we require is one version of your name, a valid email
address, and a password. We encourage you to include all versions of
your name (any character set), your affiliation(s) and research
contributions. You can find out more about what to do once you've got an
ORCID iD—and why—here.
Open, community-led.
ORCID is non-proprietary, which means you can use it in many of the
systems you already use, including grant applications systems,
manuscript submission systems at over 2500 journals, and your local
university or research institute research profile system. You can also
easily connect your information held in author profile systems such as ResearcherID to your ORCID record.
To get started:
Claim your free ORCID iD at http://orcid.org/register
Import your research outputs and add biographical information using ORCID automated import wizards
Use your ORCID when you apply for grants, submit publications, or share your CV.
___________________________________________________________
More visible using user Google Scholar Profile

Google Scholar
is
a bibliographical tool for scholarly publications. Therefore, creating a
Google Scholar profile could help enhancing your visibility. After
setting up your profile, any searches with your name in Google Scholar
will show your profile on top of the results list. Your profile shows
your list of publications in Google Scholar with classical metrics. For
the calculation of your citation impacts, Google Scholar considers
citations not only from scientific journals but also citations from the
grey literature including books, all types of magazines, thesis, reports
…
Go to Google and create an account if don't have one yet.
Go to Google Scholar, log in and click "My Citations".
Follow the instructions to create your profile and remove publications that are not yours.
You can search for new articles and citations (of your work and/or others)
You can get an overview of researchers working at
UNIL/CHUV with a Google Scholar profile
___________________________________________________________
More visible using ResearcherID Profile

ResearcherID
is
the user profile tool from Thomson Reuters. Researcher ID offers a
public profile of your article citation counts and author indicators.
You can regularly update your list of publications indexed by WoS or
manually add your papers in your ResearcherID profile. It helps you
manage your author indicators and can easily be connected to your ORCID
id.
___________________________________________________________
More visible using Impactstory profile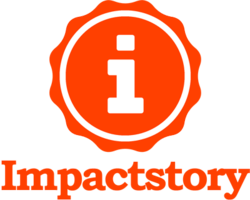 Impactstory
is
an open-source, free web-based tool that helps scientists explore and
share the diverse impacts of all their research products. By helping
scientists tell data-driven stories about their altmetric impacts, they
are building a new scholarly reward system.
Impactstory is committed to:
open source
free and open data, to the extent permitted by data providers
radical transparency and open communication
Impactstory helps you discovering almetric indicators for your publications and can easily be connected to your ORCID iD.
Bibliothèque Universitaire de MédecineResearch visibility & ORCID - Bibliothèque Universitaire de Médecine